150 Year Commemoration (1869 – 2019)
(with thanks to Waterford County Museum)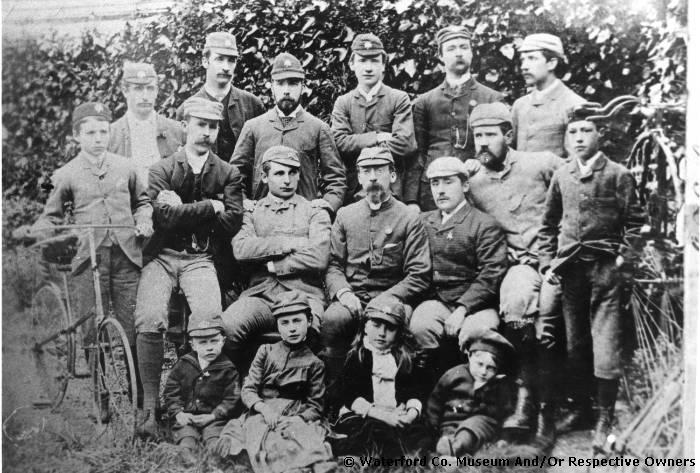 It is reported that the world's first cycling race took place in Paris in 1868 over a 1,200meter course, however, it didn't take very long for Dungarvan to catch up. Dungarvan Ramblers Cycling Club was founded in 1869 by Richard Edward Brenan, a Postmaster based in Grattan Square who was also a printer and bookseller.
News obviously had not spread to Dungarvan about the Paris race the previous year because in 1903 The Cyclist's Guide to the South-East was published and had the following observation:
'In the Co. of Waterford we claim the oldest cycling club in Ireland, the Dungarvan Ramblers C.C., started in 1869. In that year the first cycle race for a Challenge Cup was held in this or any other country, and it was won by Mr R. Edward Brenan, the present Postmaster of Dungarvan, who is as proud of the trophy as if it were a collar of gold'.
The Cup was lost for many years until it was found in 1984 and donated to the County Museum where it currently resides.
Fast forward to 2019 and Dungarvan Cycling Club is one of the largest in Ireland with a strong membership of over 170. We are proud of our history and the role of generations of Dungarvan cyclists before we played in the foundations of the sport in Ireland.
To commemorate this special anniversary
Dungarvan Cycling Club are planning to hold the following events on Saturday 10th August:
1. Anniversary 150km and 100km Club Spins
Group Captains are asked to depart from the Civic Offices and plan the spins to arrive at the Square Café, Portlaw, where complimentary refreshments will be available. All Groups to gather at the Civic Offices for the main group photo at 8.45am.Nutrilicious will set up a stall at the start with a variety of their Clean Treat Range.
2. Ceremonial Re-enactment of 1869 Race
Members of DCC along with some of the Old Velo's Group have 'raced' from a point on Shandon Road to the Dungarvan Mart on vintage bikes on a short part of what was possibly the original race route.
3. Vintage Display (from 12pm to 5pm )
There is a possibility that a Marquee/Gazebo will be erected near Grattan Square where the Old Velos Group will display vintage racing bikes. This is subject to WCC approval and the sourcing of a suitable Marquee/Gazebo.
4. Official Ceremony
Waterford County Council and Cycling Ireland have agreed to mark the occasion with a short ceremony in the Square where a plaque was laid during the redevelopment of Grattan Square commemorating the founding of Irish Cycling Clubs. Provisional time is 4.30pm.
5. DCC Party Evening
All members are invited to attend a celebratory evening at the Enterprise Bar from 8pm. Food will be provided by Nutrilicious (Hot Pots, an array of Salads, dips and Breads). Partners (€5 charge) are welcome.