150 Year Commemoration (1869 – 2019)
(with thanks to Waterford County Museum)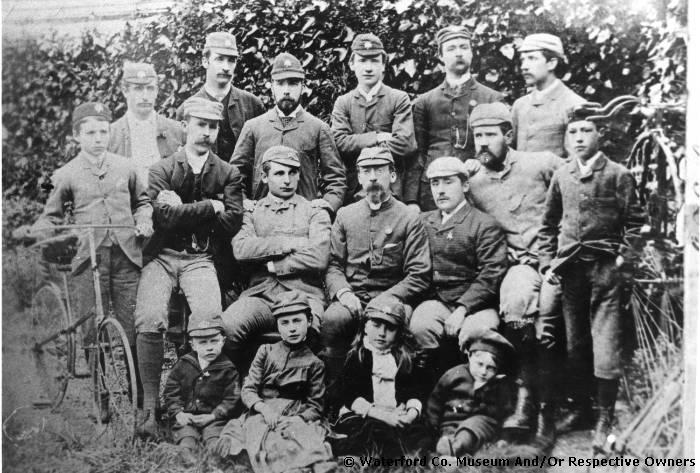 It is reported that the world's first cycling race took place in Paris in 1868 over a 1,200meter course, however, it didn't take very long for Dungarvan to catch up. Dungarvan Ramblers Cycling Club was founded in 1869 by Richard Edward Brenan, a Postmaster based in Grattan Square who was also a printer and bookseller.
News obviously had not spread to Dungarvan about the Paris race the previous year because in 1903 The Cyclist's Guide to the South-East was published and had the following observation:
'In the Co. of Waterford we claim the oldest cycling club in Ireland, the Dungarvan Ramblers C.C., started in 1869. In that year the first cycle race for a Challenge Cup was held in this or any other country, and it was won by Mr R. Edward Brenan, the present Postmaster of Dungarvan, who is as proud of the trophy as if it were a collar of gold'.
The Cup was lost for many years until it was found in 1984 and donated to the County Museum where it currently resides.
Fast forward to 2019 and Dungarvan Cycling Club is one of the largest in Ireland with a strong membership of over 170. We are proud of our history and the role of generations of Dungarvan cyclists before we played in the foundations of the sport in Ireland.
To commemorate the 150th anniversary of the founding of the first cycling club in Ireland DCC is planning to hold 150km and 100km Club spins on Saturday 10th August with a mid-spin refreshment stop common to all routes. Full details of the day will be announced shortly.
Routes
These are the suggested routes. The Groups are free to design their own routes with the aim of being in Portlaw between 12 and 12.30, where a photo taken of all Groups together
100 KM Route:
150 KM Route: