Re-enactment Report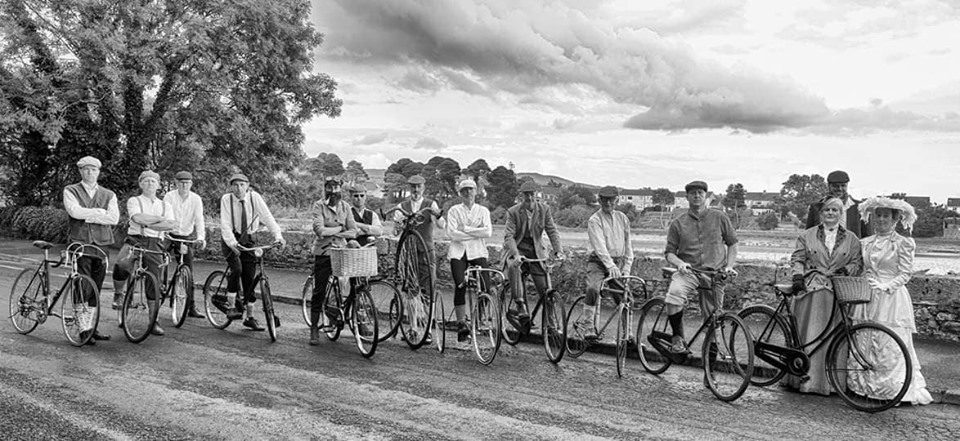 On the 26th day of July in the year of our Lord 2019 an evening of bicycle racing for the Brennan Cup occurred.
A splendid bicycle race took place at Shandon and was attended by enthusiastic spectators with members of Dungarvan Ramblers Cycling Club.
All the new bicycles were of the latest invention and wrought from the highest quality steel. Only the finest leather saddles and quality rubber tyres from the colonies. Some bicycles even had a mechanism for changing the pressure of one's peddling!
The Eminent Sir Michael Wall with his Lady wife Louisa were gracing the race with his new steel beast from Dublin. Jason Travers Esq. was sporting a much coveted penny farthing. Whilst New Velos Brendon Hennessy brought along an extraordinary tricycle. Darren Tutty Esq. was riding an Italian contraption with sheep's horns. The rest of the gentlemen had sturdy steeds although the Apothecary , Joseph Kelly forgot to leave his horse whip at home.
Twelve starters lined up by the Shandon caves. With the Reverend Michael Morley umpiring, the unorthodox bunch proceeded.
First out of the traps with a strong slow turn of the crank was Eamon Phelan Esq. however the local farmer, Michael Walsh was in hot pursuit with his son Stephen Walsh Esq. gurning to push his wheel ahead. Unfortunately Mr J Travers was still trying to mount his ride.
A great rattling could be heard as the bearded lady attempted to peddle her way into the history books.
The winner could be in no doubt, the first gentleman to cross the finishing line was the dashing Damian Travers Esq. who snatched victory in a display of physical prowess and newfangled engineering.
The First Lady in racing claret was the Lady Anne O'Loughlin who never lost her womanly composure as she glided to an elegant finish. At the finishing line Lady Nora Halley was waving the checkered flag with tremendous flourish.
During the second race of the evening, Lady Karena Hickson-Walsh pipped fellow Kerry countryman, Ger of the New Velos, at the line, in a dramatic display of ankle. Enthusiastically pursued by an assortment of eager riders.
President Sir Edward Moore presented the cup and congratulated the bicyclists for their endeavours.
We are most indebted to the local camera obscura club, John Foley Esq. John Birmingham Esq. and all those who brought along their box cameras for the wonderful portraits.
Our most capable Constabulary furnished us throughout the evening with the amiable Sergeant McCarthy. He kept the peace during rumbustious racing and was partial to a gallop himself.
The young bucks went rambling about Dungarvan town, carousing and merriment was enjoyed by all with the local hostelries providing refreshments.

From Dungarvan Cycle Re-enactment. Posted by John Foley Images on 7/27/2019 (166 items)