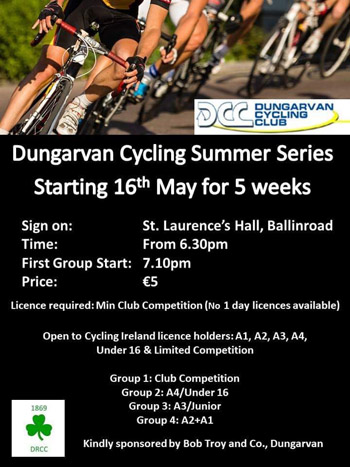 Dungarvan Cycling Club held a very successful summer series again this year with a significant rise in numbers of riders and participating clubs. This series ran over six weeks each night saw a fantastic display of skill, pace and control from the riders which were enjoyed immensely by all spectators and club members and families. In addition, riders improved their time each week and notably grew stronger on their bikes. This would not have been possible only for our always faithful bike marshals, consistent road marshals and our dedicated sign-on crew.
Our final night was a tough uphill time trial, 2.9km of The Old Sweep. Agreed by all, this proved to be the highlight of our series. Presentation, food and beverages were held directly after in the Marina Bar, which was welcomed by cold and hungry riders. A huge well done to all involved, particularly to
our overall winner, Mark McGarry who was the deserved recipient of the Joe Fitzgerald Memorial Cup. A special thank you to our main sponsor Bob Troy Ltd and to Velo Revolution for their very generous contribution. All monies raised were donated to The Solas Cancer Support in Waterford. Looking forward to seeing you all back again next year.

Kindly Sponsored by Bob Troy & Co