Kindly Sponsored by Bob Troy & Co
The Bob Troy Summer Series 2020 concluded on Thursday evening with the traditional end of series Hill climb. Taking place on the old sweep it's a 3k climb, short and 'sweet' as they say😊 32 competitors lining out on yet another super night for cycling, some of our big guns missing tonight due to holidays or training schedules. All up safely it was on to the Seanachai for pizza and prizes. 🏆🎉
Michael and the finish line crew were lightning fast in compiling the results.👏 Darren addressed the attendees and was so complimentary in recognising the help from all quarters which contributed to making the league such a success, the generous sponsership from Maurice Troy, the all hands on deck help from our Marshalls, Stewart, Timekeepers, Starters, the hardworking committee for pushing ahead and leaving no stone unturned in driving this event forward and most importantly the members for supporting the series in such big numbers.
Passing the master of ceremonies to Jason and in the ambience of our new gazebo it was results time. 🏆 Maurice Troy was on hand to present the prizes to the winners of the various catagories.
A1 Aidan Connell
A2 Conor Coleman
A3/Junior Mark McGarry/Kyle Walsh
A4 1st Alan Gibson 2nd Ian Holland
LC Racers 1st Seán Dwyer 2nd Kieran Cahill
LC 1st Éamon Phelan 2nd Johnny Byrne
Females 1st Elia Tutty 2nd Carol Byrne
Youth 1st David Gaffney 2nd Cal Tutty
Youth short course Owen Morrissey.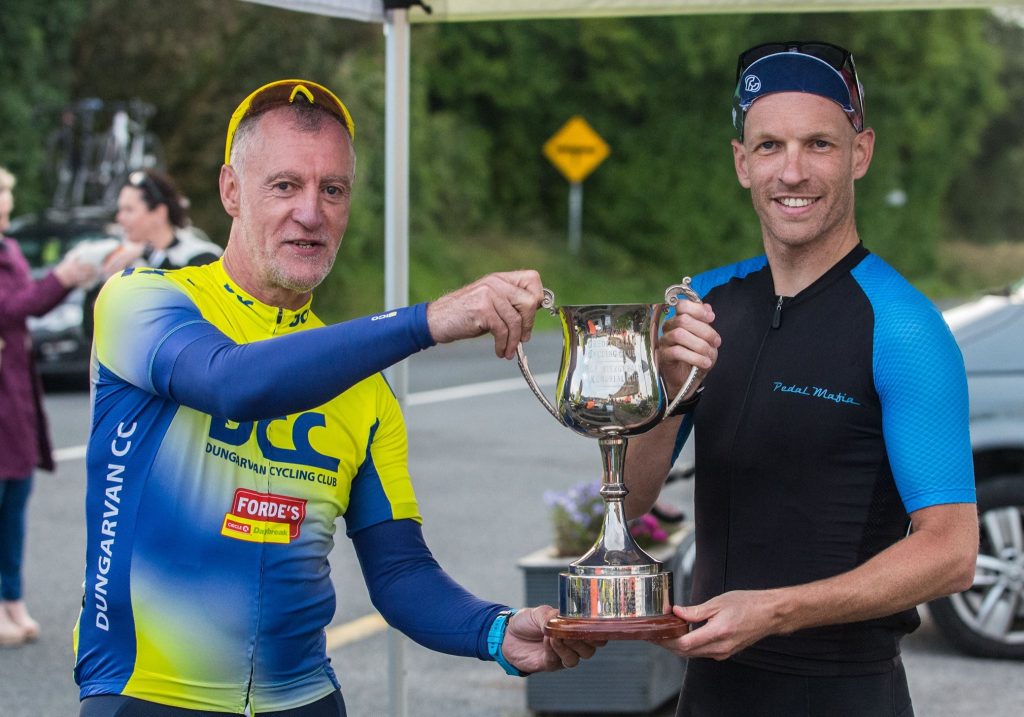 The Joe Fitzgerald Memorial Trophy was also presented to Alan Gibson the winner of the predict your time night. Alan predicted his time to within 2 seconds. It was very close with 5 riders within 30 seconds of their time.
As a token of our appreciation a draw was made amongst all who helped out on the course on anyone of the nights, the winners were Joe O' Reilly and Lar Fennell. A donation of €300 was made to our outriders the proceeds from the series and will in turn be donated to St Joseph's Hospital.
And so the curtain closes on a most successful event and a welcome distraction in these strange times. Thanks so much to all involved and especially to race directors Jason & Darren and Chairman Mike for tying it all together 👏
To the volunteers and marshals who gave up their time each week. The series would not have been possible without your help and again it shows what a great club we have and the members appreciate all of you. We had a huge number with almost 30 volunteers plus the committee involved.
Marshalls
Tom Moroney
Mehall Fitzgerad
David Gaffney
Frank Geary
Pat Murray
Tom Stapleton
Benny Dunford
Paul Brunnock
Niall Herlihy
Michael Morley
Pat Frisby
Declan Earley
PJ Curran
Lar Fennell
Anthony Murtagh
Tom Fennell
Judith McNally
Joe O'Reilly
Stephen Tutty
Ann O'Loughlin
Liam Moore
Nora Halley
Rory McGee
Joe O'Reilly
Karen Coleman
Ann Moloney for sign in each night
John Coleman for the photos
Eoin McGarry for the first aid
Frank Browne for Timing
Hopefully next year we will build on this and go from strength to strength.
'The way a team plays as a whole determines its success. You may have the greatest bunch of individual stars in the world, but if they don't play together, the club won't be worth a dime.'
Tonight's results and photos will be published in due course 😊